Renault Brake Pads
We can offer European vehicle Hyundai all the series Brake Pad.Such as Renault Clio brake pad,Renault Megana brake pad,Renault Symbol brake pad,Renault Koleos brake pad,Renault Captur brake pad,Renault Duster brake pad,Renault clio brake pad,Renault Alpine brake pad, Renault Avantime brake pad, Renault Espace brake pad, Renault Express brake pad, Renault Fuego brake pad, Renault Grand Modus brake pad,Renault Grand Scenic brake pad, Renault Laguna brake pad.
Our friction material can make it according your requirments .Material containe Semi-Metallic brake pads , Ceramic brake pads, low metallic brake pad.we gurantee supply the brake pads no nosie ,no asbestos ,long-service ,low dust.
Our brake pads' range is more than 1500 types ,If you need more items ,please send me your query list to my mail account ,i will make quoation according to your item number,such as OEM NO,FMSI NO.,fdb NO.,AK NO,MK NO,LUCUS NO,WP NO ,LPR NO.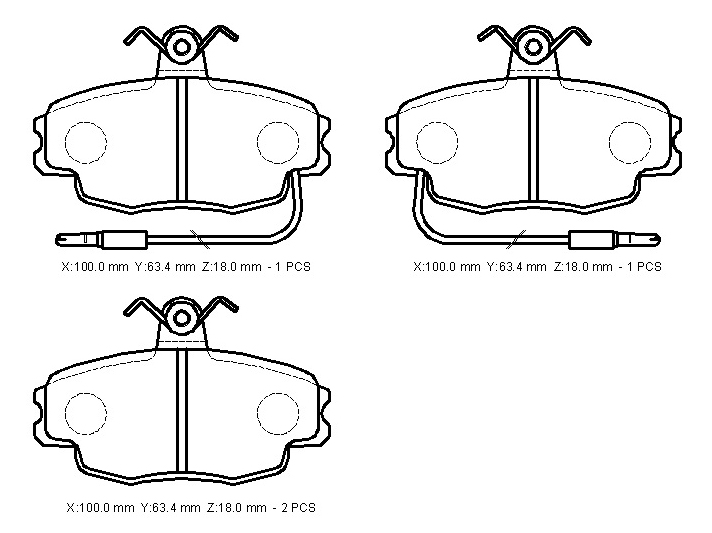 <
Yancheng

Jolin

Auto

Parts

Co.,

LTD

Email/Skype

:

angie@autopartsjolin.com

FAX:

0515-88280889
ITEM
FMSI

NO.
WVA

REMSA
LUCAS
MINTEX
OE

NO.
Vehicle
1
D97-793
20139/40/41/20347/8/9








Renault

Opel

2
D135-7067
20380
044.00
GDB585
MGB585
JLM1510
Jaguar

Renault
3
D192-7078










Peogeot

Renault
4
D193-7116








425045
Peugeot

Renault
5
D292-7194
21460/20937/20773
141.02
GDB807
MDB1214
4250-41
Renault

Peugeot

6
D351-7244
21016
220.02
GDB903
MDB1355
7701203069
Renault

Eagle
7
D371-7261
20905/21610/21414
192.02
GDB1033
MDB1291
245050
Renault
8
D516-7394


144.12
GDB308
MDB1215
425032
Peugeot

Renault
9
D1146-8256










Peugeot

Renault
10
FDB176
20480
060.00
GDB405
MDB1118


Renault
11
FDB406
20916/21388
208.02
GDB1030
MDB1316
7701

202

973
Renault
12
FDB414
20926
202.02
GDB344
MDB1333
7701202956
Renault
13
FDB440
21096


GDB328




Renault
14
FDB558
20973
144.50
GDB1305
MDB1339
95666671
Renault
15
FDB805
21110


GDB443




Renault
16
FDB845
20769/21463/21404
141.32
GDB400
MDB1628
6025071042
Peugeot

Renault
17
FDB1135
21978/21979/21981


GDB1312




Citroen

RENAULT
18
FDB1440
23215
962.00
GDB1540
MDB2226
7701206598
Renault
19
FDB1441
23245


GDB1468




Renault
20
FDB1452
23613


GDB1442




Renault
21
FDB1476
23600
481.00
GDB1464
MDB2186
425222
Citroen

RENAULT
22
FDB1544
23930


GDB1524


7701207184
Renault
23
GDB906
21267/21179
247.04
GDB906
MDB1483
95619550
Citroen

RENAULT
24
GDB1120










Renault
25
GDB1503










Citroen

RENAULT
26
4252.88
23277


GDB1448




Citroen

RENAULT
27
4252.40
23599


GDB1463
MDB2183
425238
Citroen

RENAULT
28
4252.45
23092


GDB1462




Citroen

RENAULT
29
4252.87
23276


GDB1447




Citroen

RENAULT
30
4252.58
23407


GDB1495




Citroen

RENAULT
31
4252.89
23273


GDB1449




Citroen

RENAULT