We can offer American vehicle Jeep all the series Brake Pad.Such as Jeep Cherokee Brake Pads, Jeep Compass brake pads, Jeep Grand Cherokee brake pads, Jeep Grand Wagoneer brake pads, Jeep Liberty brake pads, Jeep Patriot brake pads, Jeep Trucks brake pads, Jeep Wrangler brake pads.
Our friction material can make it according your requirments .
we gurantee supply the brake pads no nosie ,no asbestos ,long-service ,low dust.
Our brake pads' range is more than 1500 types ,If you need more items ,please send me your query list to my mail account ,i will make quoation according to your item number,such as

OEM NO,FMSI NO.,FDB NO.,AK NO,MK NO,LUCUS NO,WP NO ,LPR NO.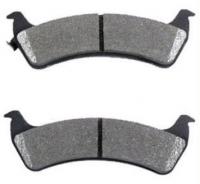 <
Yancheng

Jolin

Auto

Parts

Co.,

LTD

Email/Skype

:

angie@autopartsjolin.com

FAX:

0515-88280889
ITEM
FMSI

NO.
LUCAS
MINTEX
OE

NO.
Vehicle
1
D52-7214A




18043837
Buick

Cadillac

Chevrolet

Jeep
2
D52-728A
GDB742
MDB1594
8130363
Buick

Cadillac

Chevrolet

Jeep
3
D203-7122A
GDB1207
MDB1523
83502200
Jeep

AMC
4
D477-7358A
GDB1153
MDB1769
83054371
Jeep
5
D477-7507A
LP889/LP1615
GDB1153
5252531
Jeep
6
D625-7502A




4796344
Jeep
7
D666-7502A


MDB2349
4796344
Jeep
8
D712-7358




04883344AD
Jeep
9
D713-7502




4883717AA
Jeep
10
D790-7660
GDB4120
MDB2153
5011969AA
JEEP
11
D791-7661
GDB4127
MDB2154
5011970AA
JEEP
12
D856-7732


MDB2215
05066427AA
Chrysler

Dodge

JEEP
13
D942-7660


MD2153
05018592AA
JEEP