We can offer European vehicle Audi all the series Brake Pad.Such as Audi A2 Brake Pads, Audi A3 brake pads, Audi A4 brake pads, Audi A5 brake pads, Audi A6 brake pads, Audi A8 brake pads, Audi Carbrio brake pads, Audi Q5 brake pads.
Our friction material can make it according your requirments .your requirments.Material containe Semi-Metallic brake pads , Ceramic Brake Pads, low metallic brake pad.we gurantee supply the brake pads no nosie ,no asbestos ,long-service ,low dust.
Our brake pads' range is more than 1500 types ,If you need more items ,please send me your query list to my mail account ,i will make quoation according to your item number,such as OEM NO,FMSI NO.,FDB NO.,AK NO,MK NO,LUCUS NO,WP NO ,LPR NO.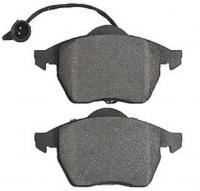 <
Yancheng

Jolin

Auto

Parts

Co.,

LTD

Email/Skype

:

angie@autopartsjolin.com

FAX:

0515-88280889
ITEM
FMSI

NO.
FDB
AP
LUCAS
MINTEX
OE

NO.
Vehicle
1
D31-7255
FDB002/FDB190
LP18
GDB656
MDB1002
1605710/2724631/77012011159
Audi

BMW

Mercedes-Benz

Saab

Opel
2
D96-7031
FDB128/FDB105
LP86
GDB663
MDB1083
171698151B
Audi

Volkswagen
3
D96-7032


LP76
GDB648
MDB1081
811698151
Audi

Volkswagen
4
D147-7079
FDB175/FDB412
LP179
GDB628
MDB1150
322790
Audi
5
D147-7176
FDB412
LP453
GDB403
MDB1217
855698151B
Audi
6
D227-7143


LP429
GDB826/GDB854
MDB1190
437698151
Audi

Volkswagen

7
D227-7177
FDB413/FDB775
LP770
GDB430
MDB1253
853698151A
Audi

Volkswagen

8
D228-7144
FDB222
LP451
GDB814
MDB1191
9945750
Audi
9
D290-7143
FDB343/FDB954
LP444
GDB404
MDB1293
443398151F
Audi

Volkswagen
10
D362-7252








447698151
Audi
11
D419-7306
FDB563
LP1445
GDB815
MDB1819
447698151A
Audi
12
D467-7346
FDB855


GDB961


441698151A
Audi
13
D555-7434
FDB590/FDB969/FDB1323
LP784
GDB1049
MDB1531
4AO698151
Audi

Volkswagen
14
D840-7715








4B0-698-151K
Audi

Volkswagen
15
FDB1398




GDB1422




AUDI

SKODA

SEAT

VOLKSWAGEN